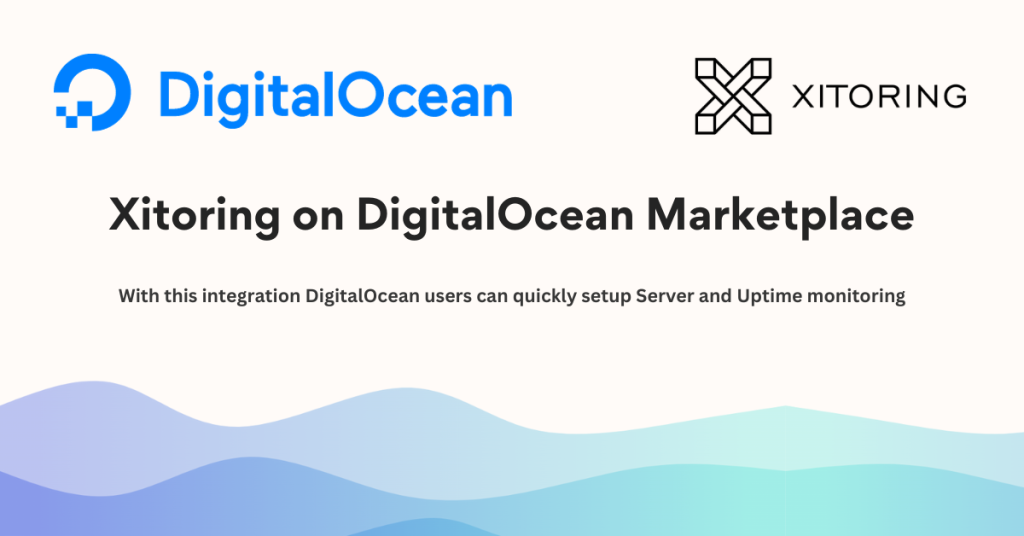 DigitalOcean Cloud Monitoring using Xitoring
Are you a part of the cloud-savvy community that leverages the incredible power of DigitalOcean to host your applications and websites? If so, you're in for a treat! DigitalOcean has recently joined forces with Xitoring, a comprehensive all-in-one monitoring application, to provide you with a seamless and efficient experience. In this blog post, we will explore this exciting partnership and show you how to integrate Xitoring as an add-on directly into your DigitalOcean panel. Whether you're a seasoned cloud enthusiast or just getting started, this article is your ultimate guide to maximizing the potential of your cloud servers and ensuring they run flawlessly.
Why Xitoring and DigitalOcean? A Match Made in the Cloud
Have you ever wondered how you can keep a vigilant eye on your servers' health and performance without the hassle of juggling multiple monitoring tools and dashboards?
DigitalOcean, known for its simplicity and developer-friendly features, has long been a favorite among cloud enthusiasts. On the other hand, Xitoring is a game-changer in the realm of server monitoring, offering an impressive suite of features. This partnership is like a match made in the cloud, bringing together the best of both worlds.
Before we delve into the specifics of this partnership, let's get to know Xitoring a bit better.
Xitoring is an all-in-one monitoring application designed to make server monitoring easier, more comprehensive, and hassle-free. It's a one-stop solution for tracking the uptime and resources of both Linux and Windows servers. With Xitoring, you can keep a watchful eye on critical components like PHP, Apache, Nginx, SSL, Docker, MySQL, Redis, MongoDB, and even network statistics (netstat).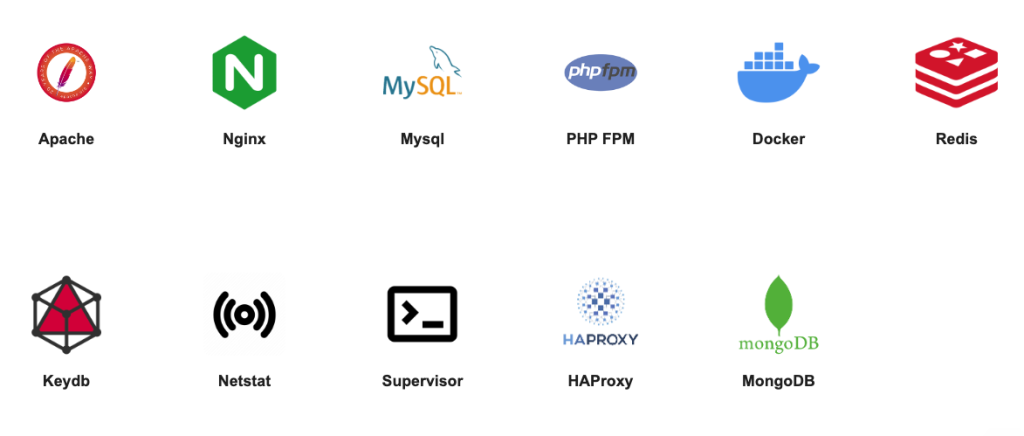 Think of Xitoring as your server's guardian angel, watching over its every move and ensuring it stays in peak condition.
Seamless Integration
One of the most exciting aspects of this partnership is the seamless integration of Xitoring into your DigitalOcean panel. You can now access Xitoring as an add-on directly within your DigitalOcean environment. No need to switch between tabs or log in to separate dashboards – it's all right there at your fingertips.
Here's a quick overview of the benefits:
Simplified server monitoring
Streamlined user experience
No additional logins or switching between platforms
Enhanced Monitoring Capabilities
But what does this integration mean for you in practical terms?
It means you can now harness the full power of Xitoring to keep your servers in tip-top shape. Let's explore some of the key features and advantages that this partnership brings to the table.
Key Features of Xitoring
Uptime Monitoring – Xitoring offers continuous uptime monitoring, ensuring your servers are always available to users.
Public Status Page – Xitoring offers built-in public and private status page to easily show your service status to your customers
Resource Monitoring – Keep an eye on resource utilization and identify potential bottlenecks before they become critical.
PHP Monitoring – Monitor the performance of your PHP applications, ensuring they run smoothly.
Apache Monitoring – Gain insights into your Apache server's performance and address any issues promptly.
Nginx Monitoring – Keep your Nginx web server running smoothly and efficiently.
SSL Certificate Monitoring – Ensure your SSL certificates are valid and renewed on time to prevent disruptions.
Docker Monitoring – Stay on top of your Docker containers, optimizing their performance.
MySQL Monitoring – Monitor your MySQL databases to prevent any data-related hiccups.
Redis Monitoring – Keep your Redis cache in check for efficient data storage.
MongoDB Monitoring – Monitor your MongoDB databases and address issues proactively.
Network Statistics (netstat) Monitoring – Gain insights into your server's network activity to optimize performance.
Mobile App – install the Xitoring app on your iOS or Android phone, and keep eyes on your infrastructure on the go.
With Xitoring, you have the whole orchestra at your disposal, making sure your server's performance is nothing short of a symphony.
How to Integrate Xitoring with DigitalOcean
Now that you're well-acquainted with the features that Xitoring brings to the table, let's get down to the nitty-gritty of how to integrate it with your DigitalOcean account. The process is straightforward and ensures that you can start monitoring your servers in no time.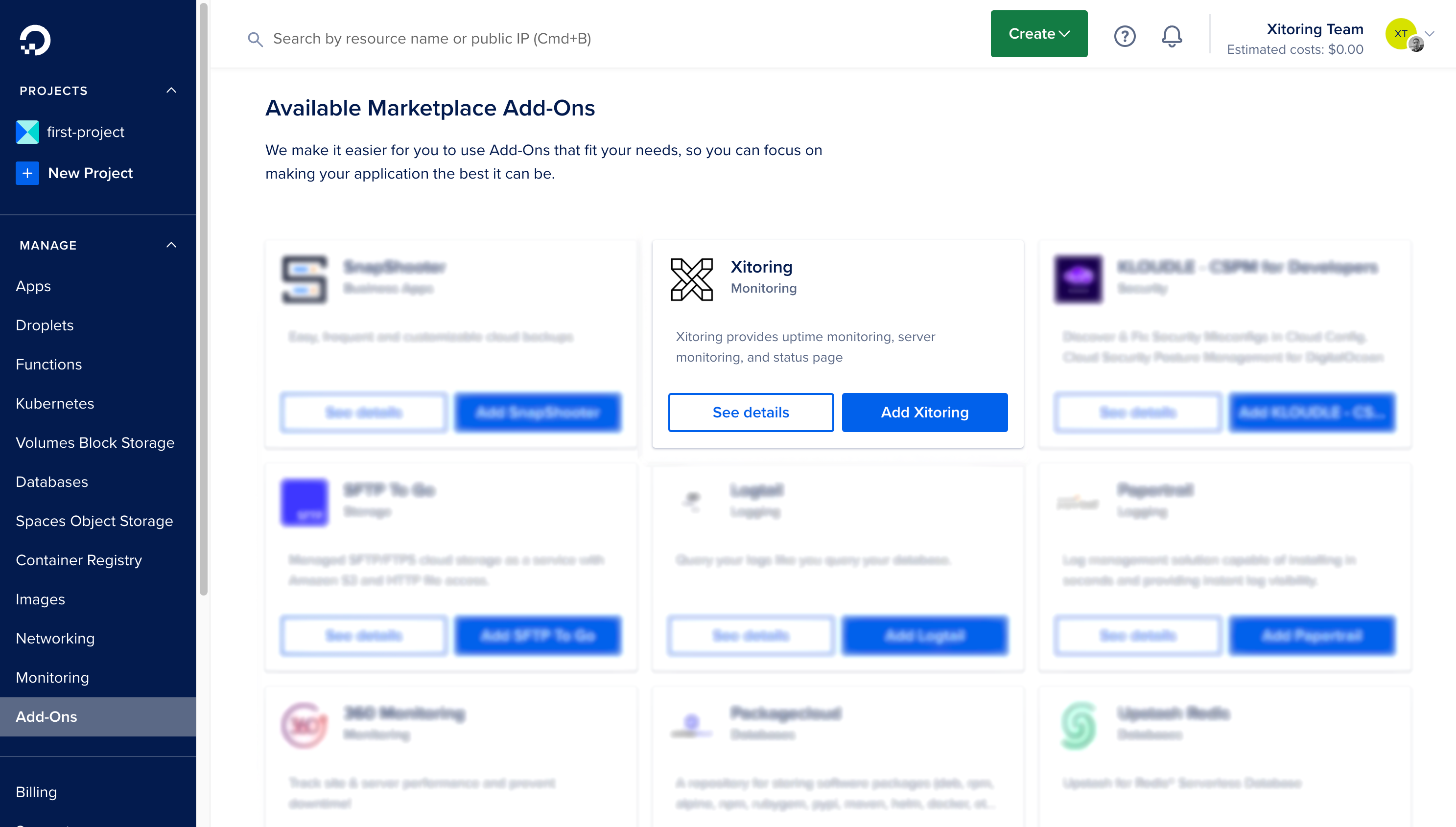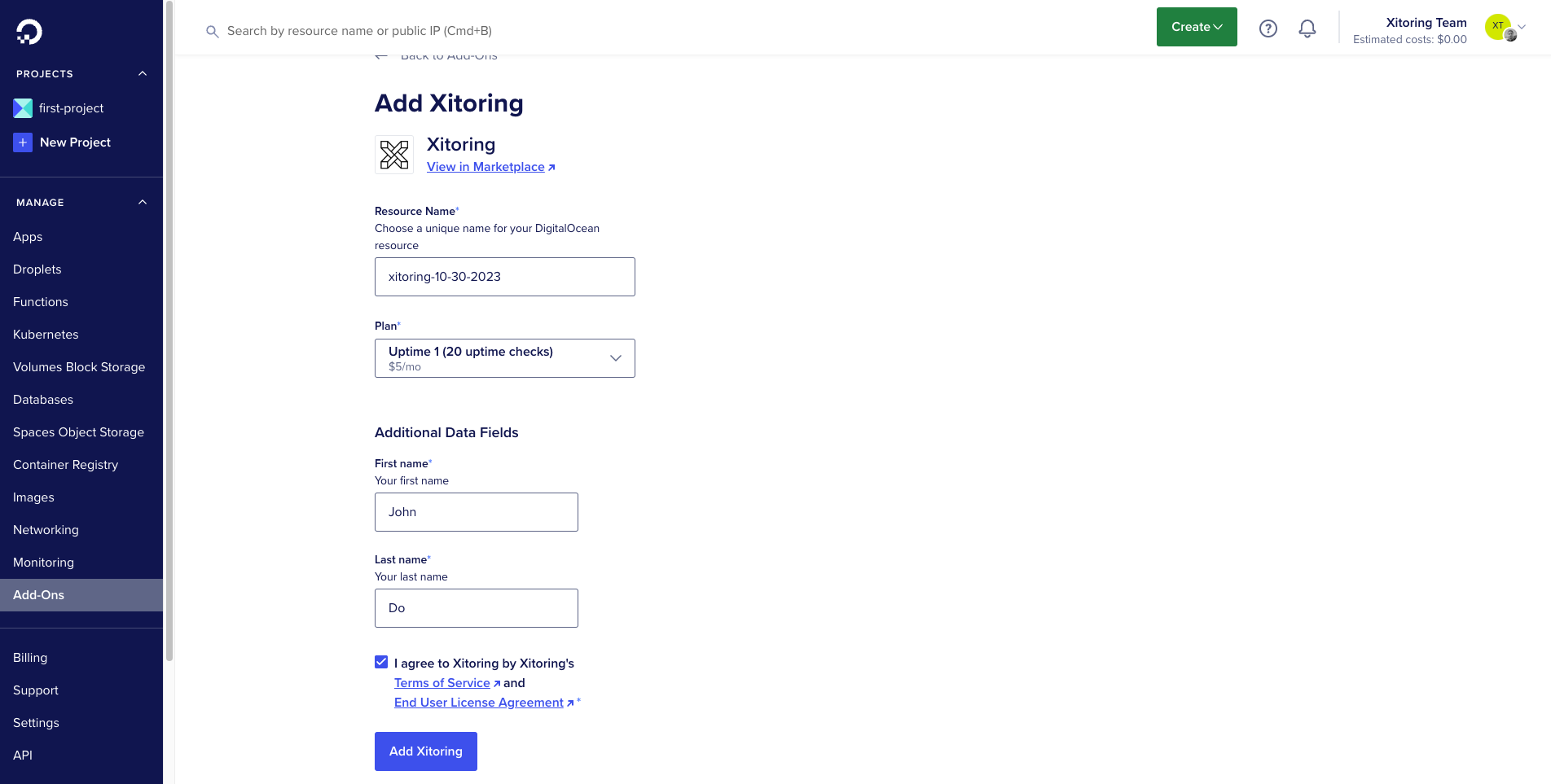 Here are the steps you need to follow:
Signup by DigitalOcean The first step is to create an account on the DigitalOcean platform. It's a quick and easy process.
Add Xitoring as your Add-Ons to DigitalOcean Once you have your DigitalOcean account ready, navigate to  "Add-Ons" and click on "Xitoring"
Add Xitoring After choosing your plan and providing first name and last name, Click on "Add Xitoring"
Go to Xitoring Dashboard Now click on "Dashboard" link on your DigitalOcean portal to easily login to Xitoring without extra authentication (SSO)
Setup Xitoring  On Xitoring dashboard you can easily add servers, websites, SSL checks easily using the wizard.
Can it get any simpler? The answer is no – this integration is designed with user-friendliness in mind.
Maximizing Your Cloud Investment
Is Xitoring the missing piece in your cloud server management puzzle?
In the world of cloud computing, maximizing your investment is crucial. The Xitoring and DigitalOcean partnership offers a powerful tool to do just that. By ensuring your servers are in top shape and addressing issues proactively, you can provide an exceptional user experience and maintain a solid online presence for your business or project.
Monitoring Made Easy
The beauty of Xitoring is its simplicity and accessibility. You don't need to be a server expert to make the most of it. The intuitive interface and real-time data presentation empower you to monitor and manage your servers with ease. It's monitoring made easy, even for those who are new to the cloud server game.
With Xitoring in your corner, you're not just monitoring your servers – you're conducting a symphony, and you're the conductor.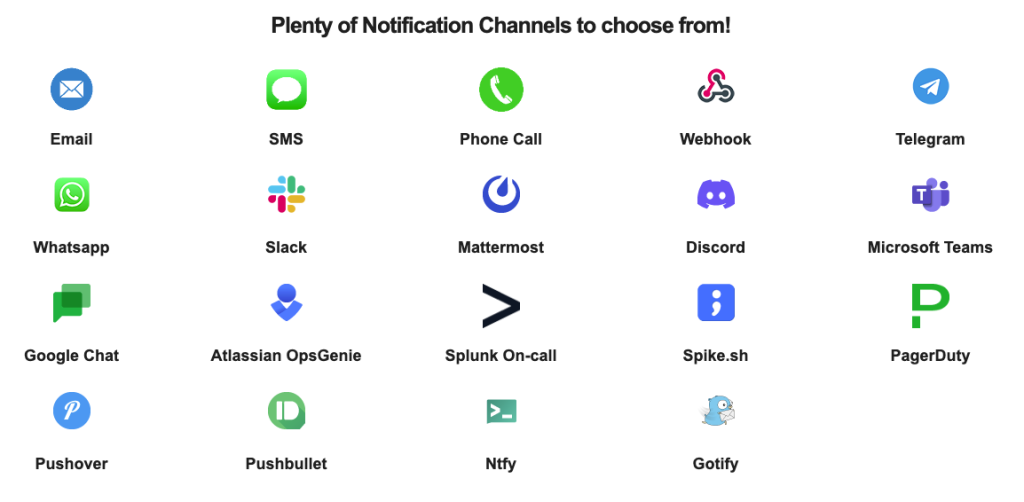 Cost-Effective – Xitoring offers a cost-effective solution to keep your servers in check. It prevents unexpected downtime that can lead to financial losses.
Real-Time Alerts – Receive real-time alerts about any server irregularities to your selected notification channel, allowing you to take swift action and maintain optimal server performance.
All-in-One Solution – Say goodbye to juggling multiple monitoring tools. Xitoring brings everything under one roof, making your life simpler.
User-Friendly – You don't need to be a tech wizard to navigate Xitoring. The platform is designed with users of all levels of expertise in mind.
Is there any reason not to choose Xitoring for your server monitoring needs?
A Win-Win Partnership
In the dynamic world of cloud servers, staying on top of your game is paramount. With DigitalOcean and Xitoring, you have a winning combination that ensures your servers are in the best possible shape. This partnership is a testament to the industry's commitment to innovation and user-centric solutions.
"Xitoring and DigitalOcean have set a new standard for server monitoring and management. It's a game-changer for businesses and developers alike." – Saman Soltani
Whether you're hosting a personal blog, a business website, or a complex application, the integration of Xitoring with DigitalOcean is a game-changer. It empowers you to maintain server health, optimize performance, and provide a seamless user experience.
So, why wait? Embrace this partnership and unlock the full potential of your cloud servers with Xitoring. It's time to monitor, optimize, and conquer the cloud like a pro.